"Australia has 13 million active internet users. Every month there are an estimated 110,000 people searching for a local business. If you don't have a website, then you are hiding from your potential customers."
It's a simple 4-Step process
You Contact Us!
Tell us what kind of website you want or we'll suggest some designs based on your business type.
We Start Work
Once you agree on a design option, we'll send out an estimate price and start work on your website.
You Review The Site
Once we complete the website you review it and tell us if you want anything changed/edited.
Website Is Complete
Once the website is finished it's yours forever!
Website Creation
We can create a web site to your exact specifications or we can create one completely from scratch tailored to what the web site is for and include as many features as you require.
All our websites will be fully responsive, which means no matter what device your clients view your website on, they will be able to easily view the website.
Website Upgrades
Do you already have a website but it's getting rather dated and maybe no mobile responsive? We can of course update your website to meet the demands that are required for most websites today.
Whether you just want your website to be made fully responsive or want a completely new design but all same information, we can do that too.
Search Engine Optimization
Is your website not bringing in as much traffic as you had intended? We can provide you with SEO services to make sure your business website is at the top of search rankings.
For example, we can push your search rankings up, so when you search 'Best Hair Salon in Sydney', your website will be on the first few pages of results.
Updates
We can regularly update your website if you require or we can give you the details to your website's backend and you can update it yourself whenever you need to.
If you require us to update your website this will incur a separate fee but updating the website yourself will require some coding knowledge.
Previous Websites We've Created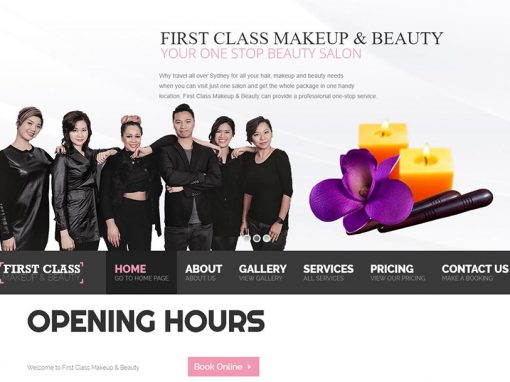 Get Your Own Web Site Today!
Want to start creating your online presence? Get in contact with us and we can work out a great plan for you and your needs.